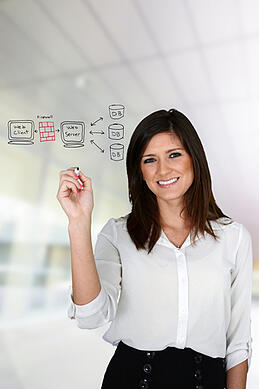 Finding the best web designer for your business website can be extremely difficult due to the wide range of variables involved in the process. All of your needs should be considered before the web design process gets started. We've rescued many clients from situations where the web designer was unable to provide all of the services the business owner actually needed.

Web design is a complex process that should take into account your company's brand and messaging and serve it up through a functional, attractive and well-optimized website. Graphic design is just a small part of this process; as an agency, we see people get confused about this all the time. Web design has many more components than just artwork. The website needs to be highly functional, responsive, optimized, and built for inbound marketing.

How to find the best web designer

There are three very important elements to consider when choosing the best web designer for your new website:

1. Design - Your designer should be fluent in the latest design standards and be able to create the functionality that you need for your website. Your website should be a lot more than aesthetically pleasing. Today's websites need:

A responsive web design that adapts to all types of devices (desktop, mobile, tablet).
To lead visitors through the buyer's journey.
To match your brand.
Ecommerce (if needed).
2. SEO - Your designer should be fluent in search engine optimization (SEO) standards. If they say they are, ask how they do it. If they don't tell you or tell you something you don't understand; move on. SEO is a very simple process and can be explained in a straightforward way. Some of the most important aspects of SEO today are:

Core web vitals. This is Google's new set of standardized metrics that help developers understand and improve how users experience a web page. One of the most important aspects being page load time.
Original content such as blog posts.
Video marketing.
Social media.
NAP (Name, Address Phone) should all match.
Listings.
3. Inbound Marketing - Your website needs to be optimized for inbound marketing. This is the method of making sure your landing pages, calls to action, and forms are all set up correctly for each stage of the buyer journey.

Landing pages are single web pages that appear when a user clicks on a search engine optimized search result.
Common forms include contact forms and information request forms.
Calls to action are buttons or words that are often hyperlinked to the contact page or a page with more information to lead a visitor through the buyer's journey. Each page should include at least one call to action.
Choosing the right web designer
Before choosing a web designer, it's important to take a look at their work. Review the firm's portfolio, reviews, testimonials, and research any other social networks for credibility. Get references. I'm always surprised how few clients actually check with our past clients. Every web designer is different and has different processes for how they design, construct, and optimize your website. Make sure you spend the time to find out how they do it before spending thousands on work that is a bad fit for your business.
In addition to the right skills, there are many variables that come into play when figuring out the cost to build a high-functioning website and choosing the right web developer. Due diligence will save you lots of time and money!
To learn more about pricing and how you can get your Softwired website design started, please visit our web design page >
Want to find out more about internet marketing?