Building a new WordPress website is a project in and of itself but it should be seen as a living thing that needs ongoing support throughout its life. Once the site is ready to publish, businesses will need to decide where to host their site and who will provide ongoing WordPress support to ensure the security of the site and content management training so edits can be made as needed.
Making decisions about where to host your website
Softwired clients are free to host the website we build for you at any hosting company they choose. But before making that decision, it's important to understand that there are different levels of hosting and support needed for WordPress websites.
Bottom tier hosting like Godaddy.com is the least expensive but gives poor performance. Your website may run fine most of the time but intermittently be down or run slowly because they overload their servers to get the highest margins. They don't keep the software updated or provide WordPress support.
Middle tier companies like WP Engine ($35 per month) have extra firewalls and better performing servers. They have a system that keeps WordPress and plugins updated but they don't provide content management training and they don't fix anything if it gets broken.
Softwired provides the extra layer of support needed for full service for business applications: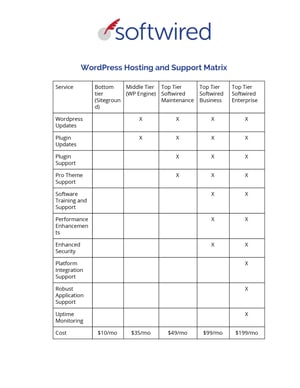 WordPress updates
Plugin updates
3rd party plugin support
Pro theme support
WordPress training
Performance enhancements
Extra layer of security
If something breaks, we fix it for free.
We have next generation servers hosted on Google Cloud that runs sites faster out of the box. In fact, the last time we measured a site migration from bottom tier hosting, the difference was over six seconds to load to under two seconds. Here's an article I wrote about it sometime back: https://blog.softwiredweb.com/premium-wordpress-hosting-will-boost-your-seo
Our support plans start at $49 per month for just basic support but many businesses choose our business class support plan, which is $99 per month to start. You can read more about the services included here: https://www.softwiredweb.com/wordpress-pro-support/
The most commonly used service is WordPress training for updating content but we also provide support if your website breaks and ensure that that is unlikely to happen because we keep your site updated.
Unfortunately, we can't provide support on another company's servers because there could be issues out of our control. We don't provide support on an hourly basis because that causes too much disruption for our system.
We recommend that businesses use our business level support plan for the first month at least. Since the plans are monthly, you can downgrade to maintenance only at any time. If you decide you want to move the website to another hosting company we can do that, though it is done at the owner's expense.
Regardless of your final choice, we can build the website on our system and you can transfer prior to launching the website. We prefer to develop in our own environment to avoid issues with other servers.
Softwired WordPress support packages system details
Normal support hours are provided from 8 a.m. to 5 p.m., Monday through Friday, Pacific Time. You may call, email, or submit a support ticket to get support. Normal response time is dependent on the level of severity for the issue. Urgent issues requiring a response within a few hours or after-hours support is not included in this plan. After hours support can be obtained by emailing support@softwiredweb.com. A technician will assist as soon as possible. Urgent and after-hours support will be charged hourly, currently $200/hr.
Note that new website development, advanced customization and email hosting are not included in this support plan.
A WordPress support agreement can be terminated at any time with 30 days written notice before the next billing cycle by either party. Any outstanding invoices will remain due and prorated to the date of the termination date.
Click here for our WordPress support terms of service.
How to Get WordPress support
Softwired provides digital marketing solutions for our partner agencies, including ongoing WordPress technical support. Here at our agency we take WordPress support seriously; we offer monthly support plans instead of hourly support to proactively prevent the decay of your website. In addition to WordPress support, we've got you covered for web design, SEO, local online presence and optimization, digital marketing, digital sales, and digital advertising. To get WordPress PRO Support, click the button below: