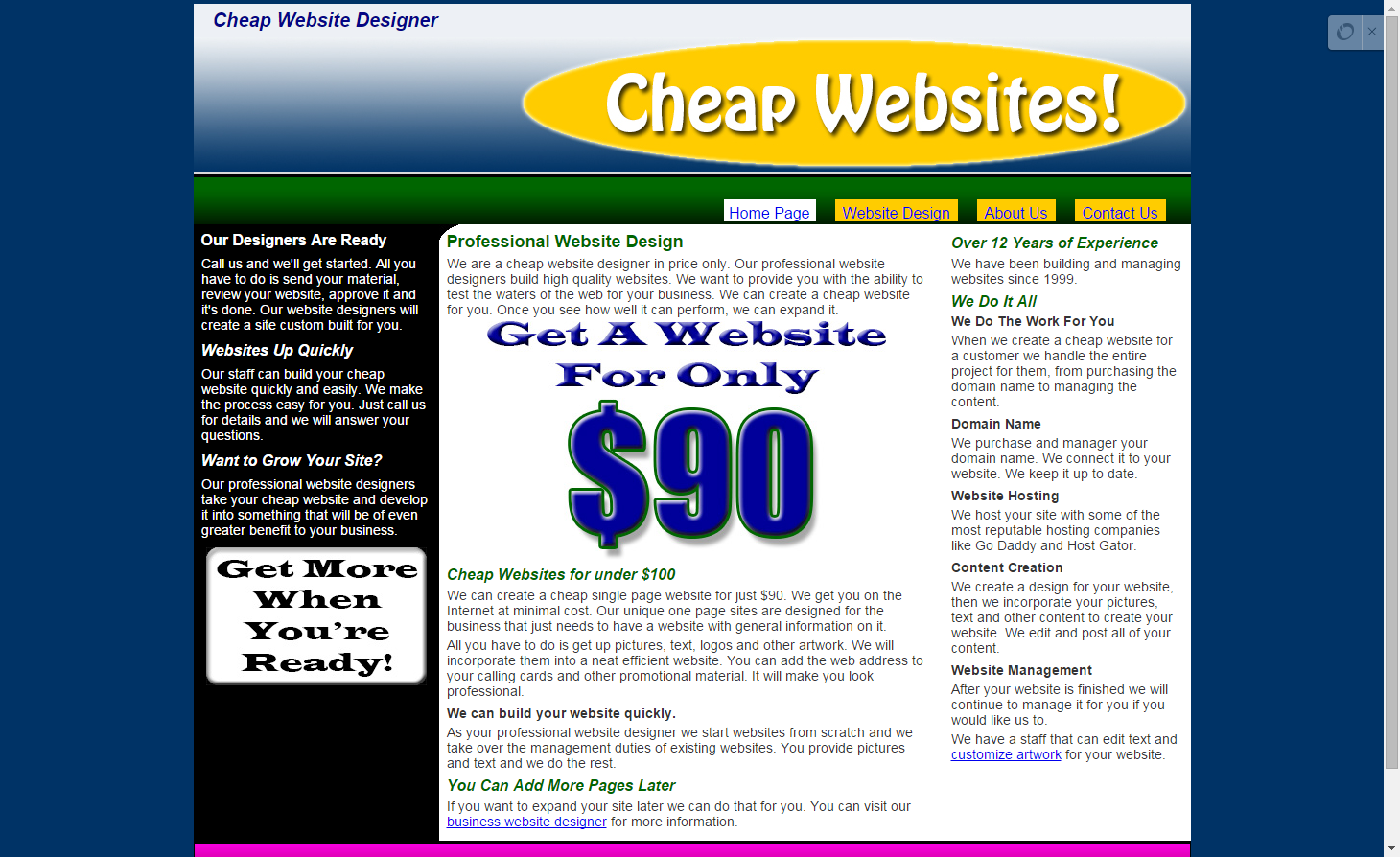 With all the options available for building a cheap website for your business, it can be very tempting to use one of them. Saving money is a good thing when you are managing costs and budgets but it can have consequences when it comes to designing your business website. If you try to cut costs by building a cheap website, your potential for attracting customers will be severely damaged.
Your website is the most important part of attracting new customers online. It is the sales funnel for getting new leads and converting to customers. If you don't invest in a professionally designed website, it will make your business look unprofessional and shoddy in addition to other consequences.
Think of your website as the online showroom for your store. If you have a brick-and-mortar store, you know the importance of creating a great first impression when customers walk in. You wouldn't want your business in an old dilapidated building; you want a nice, clean environment with freshly painted walls and good lighting. It should be inviting and comfortable and encourage your customers to stay around long enough to buy something.
This is what a professional website does for you on the Internet. By using current web design methods combined with clear messaging and appropriate calls to action, you can guide your visitors through the website to highlight your business and sell your products and services.
How Does a Cheap Website Hurt My Business?
Like with most things, you get what you pay for when it comes to web design. While you don't want to go overboard and spend thousands of dollars more than you need to, making a strategic investment in a quality website is a wise decision.
Examples of damage that can be done with a cheap website:
Not properly optimized (won't show up in search engine results)
Failure to convert visitors who reach your website into customers
High bounce rate as people click away from your site because of poor user experience
How Much Should I Spend on Web Design?
It's understandable that a business owner would want to save money if the business is new and there's not a lot of cash available for advertising. The problem I see is that a lot of businesses don't spend the proper amount of money on the right kind of advertising. A good rule of thumb is to spend 5-10% of your gross yearly revenue. So, if your business makes $100K/year, then you should be spending $5K to $10K per year on marketing efforts – which includes your website.
In the above example, the total advertising budget would be around $7,500/year on average. If you split that into normal outbound ads like print or radio that would leave $3,750/year for inbound or online advertising. If you consider that the lifespan of the website is 4-5 years on average, then your budget should be $15,000 total over four years.
That may look like a lot until you consider all the ways to market via the internet. An average breakdown in this scenario to cover four years would be as follows:
Website construction - $5,000
SEO - $2,000
Inbound Marketing (internet) - $8,000 ($2,000/year)
This is a rough estimate of what I would consider the best way to appropriate funds for an effective online marketing strategy. There are many more things to consider when setting up your campaigns and measuring results. Our approach is always to look at your business as a whole and determine the best approach based on your business and budget.
Web design expertise
If it's time for a new website or homepage redesign, please contact our team of web design and digital marketing experts. We are ready to make your website fresh, modern and functional to ensure that visitors are getting the best impression possible of your business and will be more likely to want to do business with you.