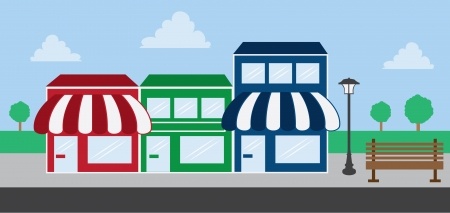 If you have a newer or small business you are probably wondering how to get customers from the internet and build your business online marketing. This is also called digital or digital marketing. The concepts can be very complicated to learn and understand, made harder because the rules - controlled by search engines - are constantly changing. However, getting started and learning the basics can be very easy.
The time span to use effective online marketing strategies keeps shrinking; what used to be a good strategy for four to five years is now probably only good for one to two years.
If you talk to enough digital marketing agencies you'll soon realize that most employ a variety of different strategies. With all the information and options, how do you decide what is right for your business?
How to Build Your Online Marketing
#1 Have a professional build your website
Don't fall into the trap of thinking you can build your own business website using a free website builder like Wix or Squarespace. These may be fine for getting a small website that gets you listed on the internet but it won't do anything to net customers. A good website designer will charge around $2000 for a starter site but is worth every penny. Don't skimp on this one or you'll look back after the first one to two years and wish you hadn't.
#2 Get a little SEO
There are some basic fundamentals to get search engines to like your website. Paying a digital marketing agency for a quick audit and a few hours of work can eliminate major problems that would prevent your website from showing up on search engines. Things like page titles, metadata and basic optimization are important.
#3 Start a blog
The easiest way to do your own internet marketing is to create and publish blog posts with relevant content on a consistent basis. Each post creates a new page on your website and search engines love new content. Just make sure your post is at least 300 words (preferably closer to 600) and that it centers around only one topic. Don't forget to link to a sales form or contact page at the bottom. Eventually you can learn how to optimize your posts for keywords. Learning how to optimize is fairly easy and can be done in as little as a couple of hours.
#4 Use social media
It seems like a lot of work in the beginning but gets much easier the more you use it. Set up branded channels on Facebook, Twitter, LinkedIn and Google+ right away but don't worry about managing them until later. You can start small and grow your activity as your business grows. You'll want to create accounts and pages for the business/brand, not your personal name unless you have a personal brand.
#5 Promote your business website
This sounds complicated but it is really easy. There are lots of places and communities online where you can join and participate. Reach out to Facebook groups, follow businesses on twitter, share links to your favorite articles and post links back to your blog. The more you do it the easier it becomes.
#6 Get local
If your customers are local, such as with a retail store, make sure you are optimized for local business internet marketing. Some simple tips are making sure your name, address and phone number (NAP) are listed on your website. (Put it in the footer so it's on on every page). Make sure that your NAP is written exactly the same way on your website an on all the social media profiles you create.
#7 Generate reviews
More and more customers are using review sites before deciding which business to use. Ignoring or not managing your business reviews can cost you money in lost sales. Ask your happy customers to give your business reviews. Make sure you respond to negative reviews as well.
Summary
Getting your business online marketing and effectively marketing your products or services doesn't have to be expensive or complicated. Following the basic fundamentals of internet marketing can get your business noticed and start building awareness to bring customers in the door.
In the beginning growth may be slow; it will seem like all this work is being done and nothing is coming out of it. Do not give up! You have to keep up your internet marketing for six, nine or 12 months to really start seeing the benefits. The lag in results causes many business owners to lose focus and give up too soon.
As your business grows it is important to increase the online activity and budget so that more internet marketing strategies can be put in place. A growing business requires more money and resources to operate. If you're not marketing you're not going to grow. Make sure that your internet marketing matches the growth of your business.