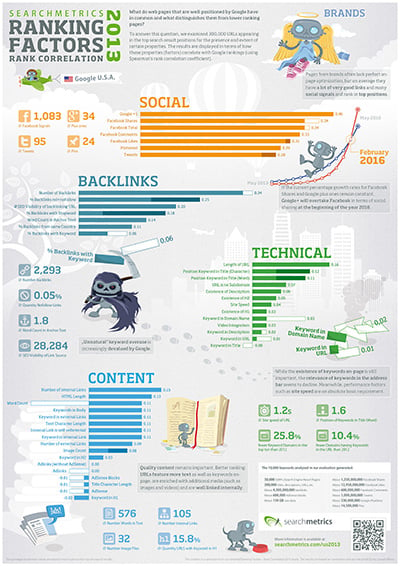 2013 will go down as the year that everything changed dramatically for SEO. (I wrote an article about changing the way we think about these coming factors) The new search engine optimization factors are more far reaching and broader based than ever before.
This year has seen some of the greatest shifts in how search results are compiled in recent memory. Google keyword data is gone. And with the death of keywords, so will go page rank eventually.
In order to increase the quality of the search returns from an internet saturated with keyword overload, Google has been shifting to authorship and link worthy content results.
Search Metrics Ranking Factors and Ranking Correlations study for 2013 found that a new trend is certainly in full swing. The top 8 social factors ranked were:
Google +
Facebook shares
Number of backlinks
Facebook total
Facebook comments
Facebook likes
Pinterest
Tweets
Keyword ranking factors were rated near the bottom. It is interesting that though Facebook clearly is a huge factor in Google ranking, Google + takes the top spot. Whether Google + is getting special treatment or not is of no consequence. The fact is that the number one factor in ranking in 2013 is Google + and if sites are not focusing on both Google + and Facebook, they are missing the boat.


Replacing Page Rank will be Author Rank and Publisher Rank. Within these, Semantic Relevance and Link Worthy Content will be what drives or sinks sites in 2014.

Creating a business Google + account and then linking it to the company's "author" page is the first step. Next, make sure everything that the company publishes is linked to the "author" page. Then link the "author" page and each published page back to the Google + page. Also, request authorship from Google.

Most importantly, remember that when creating content, it is no longer about keywords, it is about Link Worthy Content. Publishing content that people will like, share and link to is the new key, not the specific words used. It is a new internet but in the end it will be a more accurate and informative one. We are on the ground floor right now. There is no better time to make the shift and be in line for the future of the web.

If you would like more information about the current trends for SEO and where your website measures up: