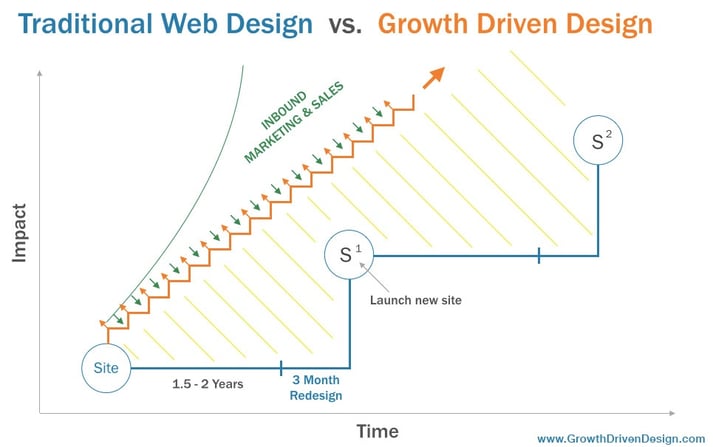 Recently in a Hubspot partner Webinar I attended I was presented with a new concept for web design called Growth Driven Design. This was a concept that has stemmed from recent years that the traditional web design development model was broken. That the typical process has flaws and inevitably will fail.
That's a pretty strong statement but after building hundreds of websites over the years I can whole heartily say this is true. That in recent years it's become less functional and more prone to failure.
Here's why:
In the past it used to take more developer time to build websites. Because it was so expensive we had to do some major planning. The typical website cost can be anywhere from $5000 to $100,000, or more depending on the size of the company. We would outline a budget, set up the project, give everyone tasks, and build the website in 3-6 months (or longer). We would then launch the website and hope that it is effective in generating customers.
In recent years that has changed. With software like WordPress or Hubspot, no longer are we burdened with huge development costs. Websites and be more rapidly deployed and this has caused a shorter lifespan because redesigns don't cost as much. Also, with new technology design is changing at a more rapid rate. We used to get 4-5 years out of a redesign and now the industry average is 2 years.
So how do you get your money's worth when the website design is only going to last 2 years? The answer is we build a lightweight version of your website and add content in real time. Your website will be launched quickly and efficiently and make updates in real time based on reports from Google and other sources.
Since changing our approach the results have been outstanding. Clients love it because the initial risk of investment is lower. We love it because we can prove results over time.
We see this as the future of web design. To learn more head over the the Softwired Network and see how we've built a secure platform for your WordPress website. www.softwiredweb.net.
Want a free Internet Marketing Assessment?