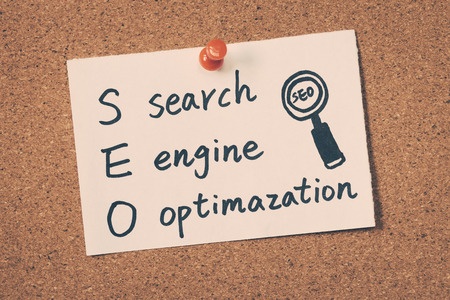 If you talk to any local business digital marketer today, at some point they will probably say that you need to invest in SEO (Search Engine Optimization). Some of you may know what that means while many simply can't comprehend or don't want to take the time to understand. Well, I'm here to let you off the hook by telling you that you don't need to worry about SEO as much as you've been told. At least not in the traditional sense.
Many who work in the industry would probably disagree with me so let me explain what I mean. But first, let's briefly describe what SEO is and what it entails.
What is SEO?
SEO is an acronym for Search Engine Optimization. This is the practice of optimizing your website and content for the purpose of getting better results in search engine rankings. So, if you are a plumber in Seattle you will want to show up on a search engine results page (SERP) if someone types in the keyword "Seattle Plumber". (Note: keyword can mean more than one word).
In the past we used to be able to influence these results by using tricks to fool search engines. We could put a lot of keywords on the website to match those search terms or create a lot of links from other websites to ours, which is called backlinking. There was a lot of abuse by companies manipulating these results so in 2012 Google declared war and started penalizing websites that were found doing these things. Even today, there are still a lot of these types of companies but they are becoming fewer as the general population understands how things work today.
Why focusing on SEO is bad for business and what does work
So what does work? The reality is that you can't do only a few things and get good results. It takes a comprehensive plan from soup to nuts to get long lasting results that will improve over many years. Using Inbound Marketing principles, we can break all the necessary steps down into easy to understand tasks that make sense to someone who's not an expert.
An important aspect of Inbound Marketing is how we show a return on investment (ROI) for our efforts. In the past, we used to have ranking reports for individual keywords to show our results. Now we don't do that anymore for a few reasons. The first reason is that those results are volatile, making it difficult to detect and maintain a position. The second and more important reason is that those results don't mean much because that's not how people find your business anymore.
People like you and me want to control their own search results. If we are searching for a plumber in Seattle, we may search for one using more detailed keywords. For example, we might want to find a plumber who knows how to fix a kitchen sink and enter a search for "fixing a kitchen sink Seattle". This is called long tail keywords because the searcher uses three to four word keyword phrases that are very specific to the product or service they want to buy. To show up for these types of searches we should create articles or posts about these kinds of topics. We should then share our posts through social media to amplify our reach. Those readers visit our site because our relevant article showed up in their organic search results (results that are not paid listings or maps).
Now that we know how to get traffic to our website with organic SEO, let's look at typical reports that show all of our traffic to our website. Here's an example of a client report that shows the number of visits and where they are coming from: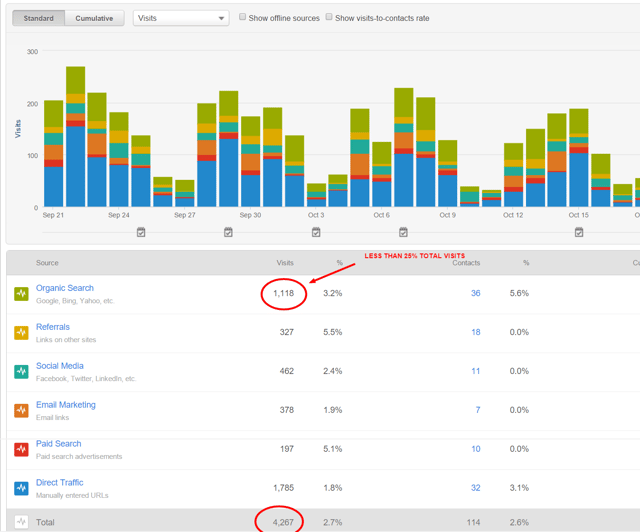 As you can see, less than 25% of all traffic is coming from organic SEO. This is pretty typical across the board and I've rarely seen it much over 30%.
Based on this knowledge, if you are planning your marketing budget how much should you put toward SEO? If it were me, I'd allocate 25% so that I could work on the other aspects of how visitors are coming to the website. Here's what those are:
Referrals - Links on other websites that users are clicking on (backlinks)
Social Media - Links on Facebook, Twitter, LinkedIn, Google+, and other channels that are a good fit for your business
Email Marketing- You send emails with links back to your website
Paid Search - Pay Per Click advertising. You put ads on search engine results pages that you pay when someone clicks on them
Direct Traffic - Manually driving traffic to your website
If your efforts are balanced you'll get a much better ROI because these methods work together and compound on each other. This happens when you run campaigns and tie everything into one offer.
We're here to help clients with all of their digital marketing needs from SEO to web design. Learn more by clicking on the link below:
(I was recently contacted by another individual who liked this post and wrote an expansion on the topic for strategy. You might find this very helpful and interesting https://www.linkedin.com/pulse/im-ranking-1-google-now-what-tom-uhlhorn)