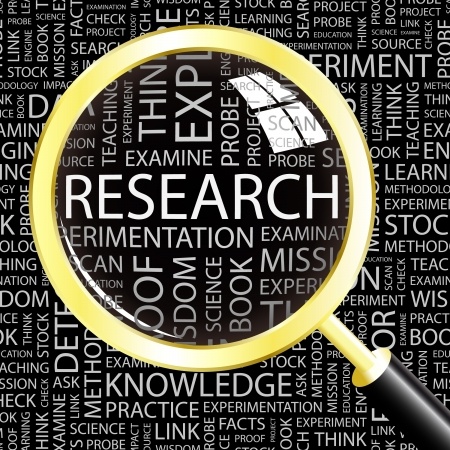 Finding good keywords is the first step in getting the right traffic to your website. This starts by researching the best keywords for your business. The process is easier that it seems and you can follow these simple steps to get some great ones.
What is a Keyword?
Let's start waaaaayyy back in the beginning and define what a keyword is. A Keyword is a word or group of words that you type into a search engine to see what results will give you answers to your questions. For example, if you type in "keyword research" you will find lots of articles like this one that describe the process. The interesting thing to note is the terminology has evolved to where "keyword" can mean more than one word.
How to do keyword research?
Step 1. Define your buyer persona
The first step is to think about who your customers are. You can do this by simply looking at your latest ones or a select group. This will influence how people are searching based on linquistics and other demographics. For example, someone searching for coffee in Seattle might use terms like "where's the best latte" while someone in Louisiana might just search for "coffee".
Step 2. Use the Keyword Planner
Google has a tool that basically tells you how to find the best keywords that will generate the most traffic. Now depending on your website's credibility and how you stack up against the competition you'll want to find ones that aren't too hard to rank for. Using our example, if you aren't Starbucks you'll want to be more specific like "organic local coffee".
To use the keyword planner you'll need to create an adwords account with Google. This is how people run Pay Per Click (PPC) campaigns which show up as ads on search engine results pages (SERPS). Once you log in you'll click on Tools, Keyword Planner, and enter your most common keyword from step 1. Click on the button below "Get Ideas".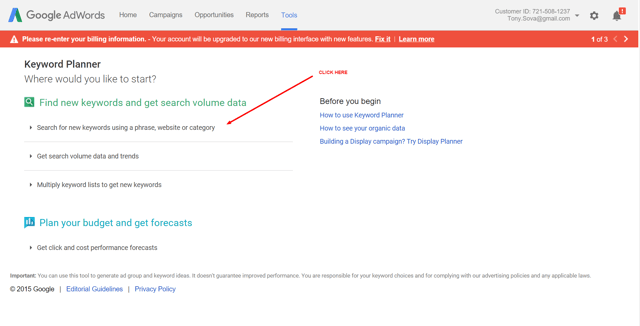 When you get to the next page you'll see some results for traffic from the keywords you entered. So you can see my traffic results for "local organic coffee".
I've highlighted two important columns, Avg monthly searches, and Competition. If you scroll down the page you'll see suggestions for other keywords and their data.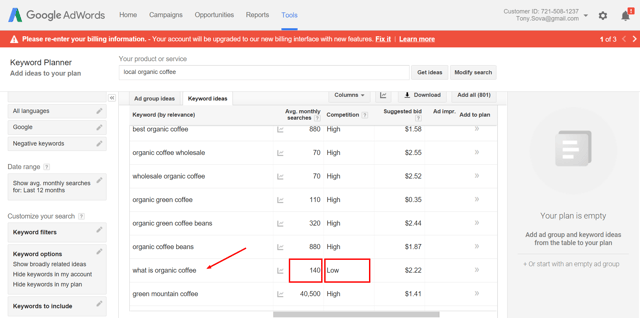 What we want is to find the sweet spot where the Avg monthly searches are the highest and the competition is low. You can see I've found "what is organic coffee" as a good topic to get traffic that fits that criteria.
Step 3. Use Google Instant to see what arrangement is the best
This is done by searching online and by seeing what keywords are suggested as you are typing. So in our example I would start typing "organic coffee..." and then see the suggested searches such as "organic coffee beans" or "organic coffee vs regular coffee". Sometimes this gives us ideas for other posts and we can go back to step 2 and see what kind of traffic and competition may be generated.
Now go write a blog post about that topic!
OK this is beyond the context of this post because this post was written for the topic "how to do keyword research". However, that is the next step and you can learn more on the post how to optimize your blog post.