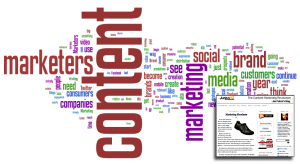 The importance of Content Marketing in building your online presence and thereby generating leads and sales cannot be overstated. But what is content marketing exactly and what are the best tools to use it effectively?
Content Marketing is a marketing strategy in which a business provides relevant content and information to its target market, essentially making them more informed consumers. Instead of direct selling, businesses hope to create demand for their product or service by building loyalty through sharing valuable information.
Best Social Media Marketing Tools
Linkedin-connect with other professionals in your field and potential customers/clients interested in your services.
Google+-absolutely critical for improving your search results.
Twitter-ideal for short term promotions or quick informational updates.
Facebook-a personal profile paired with a business page is a great way to share information about yourself and your company.
Best Social Media Interaction Tools
Linkedin Groups-sign up for groups relevant to your business/industry to find out what is working for others and share ideas.
Linkedin Answers-opportunity to answer questions and gain credibility. Business to Business.
Yahoo! Answers-opportunity to answer questions and gain credibility. Business to Consumer.
Google Alerts-be alerted when people are talking about you.
Google trends-research keyword trends for your industry. Stay ahead of the curve!
Google Groups-add relevant groups to your circle to stay abreast of competitor and industry trends.
Best Content Marketing Sharing Tools
YouTube-share informational videos.
Vimeo-share informational videos.
Slideshare-share a slideshow.
Pinterest-share pictures/product description with a huge audience.
StumbleUpon-a random generation of content by a user's interest.
Best Content Marketing Measurement Tools
Google Analytics-still an industry standard for web traffic information.
Radian6-a paid tool specifically targeted at social media management.
Compete.com-a comparison tool for web analytics information.
There are an enormous number of free and useful Content Marketing Tools available today and we hope this information is useful to you. Stay tuned for future blogs on other aspects of Content Marketing.